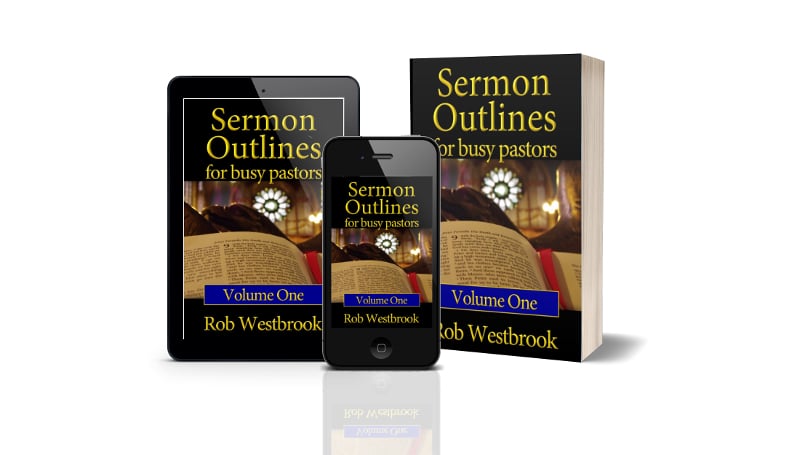 Earn 25% on Every Book Sale!
I'm Rob Westbrook, the author of the "Sermon Outlines for Busy Pastors" sermon book series.
Since 2012, I've published over 20 books of sermon outlines. As a pastor, I've known the stress, pressure, and anxiety of serving my congregtions, while also being committed to feeding them with the Word of God. I hope my books are able to ease some of that tension by providing quality sermon material for busy pastors to use and build upon.
In an effort to help more pastors discover my books, I've implemented an affiliate program. Through this affiliate program, you have to opportunity to help me get the word out, as well as earn extra income for yourself. And there's absolutely no cost to participate!
What is an Affiliate?
An affiliate is someone who uses a unique web page link to point others to my books. If that person buys a book through your link and recommendation, you earn 25% of that sale.
You can share your unique link on your personal web page, a business web page, through an email, on Facebook, Twitter, or Pinterest, and any other social media platform. Any time and any place you access the internet is an opportunity.
How Does It Work?
My books are available on all major online book sellers, such as Amazon, Apple, and Google. But I use a 3rd party web platform to sell my books from this website. That platform is Gumroad. Gumroad's software provides me an affiliate backend, where all of the details are handled.
How Can You Participate?
Visit my personal Gumroad Affiliate Link at: https://robwestbrook.gumroad.com/affiliates.
You will be taken to a web page where you will enter your email address. If you're not signed up at Gumroad, you will be asked to create an account for payment purposes.
On my affiliate page, you will be asked to fill out a form with your ideas on how you will promote and sell my books.
Finally, submit your affiliate request.
I will receive notification of your request.
Once approvoved, you will have access to an affiliates dashboard at Gumroad. There, you will find your own unique link to share, as well as a table of your sales and earnings.
It's Simple
My affiliate program serves two purposes. With your help, more pastors will become aware of my books. And with my help, you will earn extra income.
If You're Ready To Earn
Click on the button below, which points to my affiliate page, and you can get started in just a few minutes!
I look forward to partnering with you!
---